2014 SEASON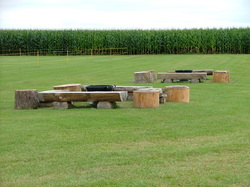 WARM UP AT THE FIREPIT
We will be open weekends beginning September 12th through November 2nd.

We will also be open every Wednesday evening beginning 10-8-14 to 10-29-14--this is great day to schedule a group visit to the maze, see the admissions page for further details!

Remember the corn will be greener and thicker the earlier in the season that you visit the maze.
---
Hours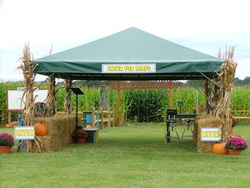 Monday: Closed
Tuesday: Closed

Wednesday: 5pm-10pm last ticket sold 8pm (During October only on dates 10-8-14 to 10-29-14)

Thursday: Closed

Friday: 5pm - midnight (last ticket sold at 10pm)

Saturday: 11am - midnight (last ticket sold at 10pm)

Sunday: 11am - 9pm (last ticket sold at 7pm)




*Field trips can be scheduled by appointment on Wednesdays from 9am to 2pm.***


---
***Hayrides ($3 each--ages 4 and under are FREE )***on Fridays 5pm-9pm, Saturdays 12pm -9pm & Sundays 12pm-7pm in October


***Barrel train rides ($1 per ride)*** on Saturdays and Sundays in October from 12pm -5pm





We are not responsible for accidents or lost or stolen possessions. Please leave valuables at home or secure them in your vehicle.